Use the Internet for Research
Use the power of the internet to verify the credibility of the person you are dealing with using the internet.
A simple google search could mean the difference between making a disastrous life choice and building a successful online business.
I do not recommend being sceptic of every mode of online money making, but given that this part of the internet has a notorious reputation, a little bit of caution goes a long way.
A legitimate business will have oodles of social proof and a scam business will invariably have bad reviews or no reviews at all. Time to bail.
Use the Helpline to get to Know the Business
Use the customer service helpline to get in touch with their representative and get a first hand feel of what they are offering. If they seem to be offering too much for too little, it's time to bail.
Use Antivirus Software

The end game of all scams is to install malicious software on your computer so that they can steal sensitive information which they can use to steal money from you. If you buy software online make sure you buy it from a genuine supplier.
Only Install Software you Understand
Most scammers try to peddle strange and never-before-heard softwares which they claim will allow you to make a lot of money.
The golden rule is, if you don't know what the software does or have never heard its name and it doesn't have at least a few thousand reviews on the open source app marketplace, do not buy such a software.
Spot Impostors
Spammers pretend to be someone you know and trust, like your friends, relatives, your bank, the taxman, etc.
Something as simple as an identity verification can go a long way in making sure you do not become another statistic. Ask as many questions you need to asccertain the identity of the person you are dealing with.
Never shy away from asking them to show their documents and any verifying data they can present to bolster their claims.
If they seem to fumble, it's your responsibility to not just not deal with them, but report them to the local authorities so that they don't move on to scam other people.
Caller IDs Aren't Always Accurate.
There are softwares which allow people to mask their caller IDs so always verify credentials manually instead of blindly trusting them.
Use Firewalls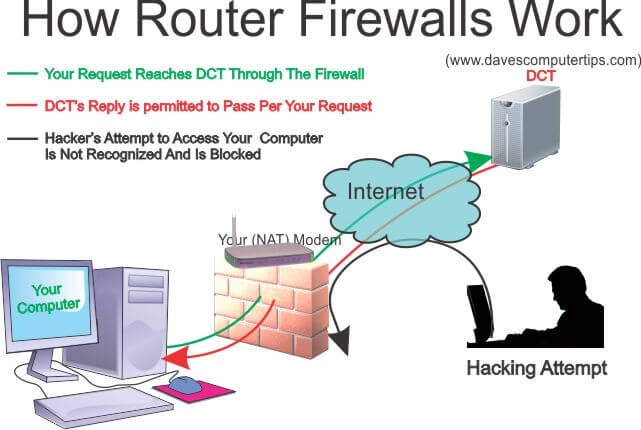 Make sure your firewall is always switched on. A firewall is a security shield that stops scammers from infiltrating into your network and stealing your data.
Operating systems come with built in firewall settings, which, in addition to the firewall which your internet service provider offers should be sufficient protection for an average Internet user.
They can monitor and warn you of unexpected access to your computer system. If your operating system does not come with inbuilt firewall systems, you will need to buy one off the shelf. It is well worth the investment.
Keep your Operating System always Updated
Most operating systems keep track of the major viruses peddled by scammers and are adept at removing those viruses, provided you keep your software updated.
Never Provide your Genuine Banking Login Details to Anyone.
No genuine company will ever ask you for your bank login or your Paypal password. If they do, that should serve as a red flag for you.
Never provide your financial login details to anyone under any circumstances. If you do, you are only setting yourself up for failure.
Don't Pay Upfront
Most scammers will try to take the money as soon as possible and bail out, which is why they insist on people paying upfront. Never pay upfront for any service, or software which you are being sold for the first time.
Use the Proper Mode of Payment
Modern banking systems which use online banking and plastic money have built in security mechanisms which allow you to initiate a chargeback if the goods which were promised to you weren't delivered in the right manner or weren't delivered at all.
For this reason, it is very important to choose a mode of payment which allows you to reverse payments. Scammers will insist on getting you to pay using non-escrow systems, which is not in your best interests.
As with Everything in Life, Knowing your Enemy is Half the Battle Won.
Be alert to the fact that scams exist. When dealing with strangers on the Internet or new businesses, whether it's over the phone, by mail, email, in person or on a social networking site, always vet them properly. Remember, if it looks too good to be true, it probably is.
Don't Trust Free Trial Offers.
If a business offers free trials, which seem too lucrative compared to the other offers, it probably is a scam.
Although legitimate businesses do offer trials and discounts, before you agree to a free trial, research the company and read the cancellation policy. Always keep an eye on your monthly bank statements.
Talk to an Expert Consultant
If you are a new business just starting out in any field, it is highly likely that scammers will try to get to you.
Talking to an experienced consultant gets you in a favorable position to understand all the pitfalls to avoid while starting a new business.
This one fact alone could spell the difference between running a successful business and going broke.
Secure your Online Account with Proper Passwords
A strong password should include a mix of upper and lower case letters, numbers and symbols.
Don't use the same password for every account/profile, and don't share your passwords with anyone.
Choose passwords that would be difficult for others to guess and update them regularly.
If you do Receive an Email which Appears as a Classic Scam :
Avoid replying to it.
Don't click on any links mentioned inside the email.
If you have any questions or comment please ask and I will get back to you as soon as possible. Thank you so much for visiting and you are more than welcome to call again.